Definition of Paleotraining Method
Paleotraining is the training method based on the movements performed by our ancestors in their daily life, where your body, the environment and own utensils of the Paleolithic era, are the elements used during training.
Paleotraining is structured around 15 drills, which are themselves, motor programs anchored in our genes, as were the movements that our ancestors performed in the course of his life, with the sole aim of survival.
Paleotraining returns with speed, and takes up very little time in your life, a state of optimal health and fitness , while safely stimulates the adequacy of body weight.
The characteristics of this method are that it is short, intense, varied, and goes by the inseparable hand of specific strategic nutrition and fasting. This combination makes quickly and effectively, the recovery and development of the 12 physical capabilities of the human being, lost in modern man by the way of today´s life.
200 exercises are combined through 100 different training sessions with different physiological targets, all strongly anchored by the 5 principles of Paleotraining.
The movements
Paleotraining movements belong to 15 paleolithic drills...
Read more...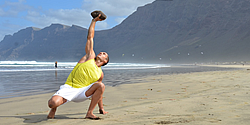 Principles
Paleotraining uses combinations of human drills, controls the intensity of its sessions, variability ...
Read more...
Scientific basis
The Only method that includes health, silhouette, posture and performance as effects.
Read more...
Palaeolithic drills
Movements in Paleotraining are divided into 15 drills that performed paleolithic ancestors in their daily lives.
Read more...
Effects
His practice generates health, silhouette, posture, body proportion and physical and athletic performance.
Read more...
Physical skills
It stimulates 12 own physical capabilities of our ancestor Homo sapiens in the current human being.
Read more...
Programming Methodology
All workouts are structured and periodized into planning that quantifies each repetition, movement, skill, level of intensity and period in which the user is located.
Read more...